MusicBox2
Aby rozpocząć odtwarzanie muzyki kliknij poniższy guzik:


Newsletter
Dla Użytkowników
Użytkowników Online
Gości Online: 1
Brak Użytkowników Online


Zarejestrowanych Użytkowników: 128

Najnowszy Użytkownik: ~ouyodavokuqu
» Villiger 1888
Szwajcarska firma Villiger & Sons, znana z produkcji małych, maszynowych cygar, wypuściła właśnie na rynek cygara Villiger 1888, pierwsze ręcznie wykonane cygaro noszące nazwę firmy Villiger.

» Tatuaje wprowadza "ekonomiczne" cygara
Bardziej dbający o budżet fani cygar Tatuaje mogą oczekiwać nowej linii "ekonomicznych" cygar: Ambos Mundos, long filler w cenie, która idealnie pasuje do kryzysu ekonomicznego. Mimo iż może się wydawać, że cygaro znalazło idealny moment na debiut, Pete Johnsos, właściciel Tatuaje, zaprzecza, jakoby Ambos Mundos miał jakikolwiek związek z obecną sytuacją ekonomiczną.


» Humidor z kamienia?
Poszukujesz eleganckiego i unikalnego humidora, który z pewnością wzbudzi zainteresowanie, gdziekolwiek go wystawisz? Rzuć okiem na kamienny humidor D'Aprile Humidors.
Teksańska firma, założona w styczniu, D'Aprile Humidors, uważa się za pierwszą i jedyną firmę produkującą humidory wykonane z kamienia.

» Tempus Sampler od Alec Bradley
Alec Bradley wypuścił pięciopak samplerowy z linii Tempus, w którego skład wchodzi pięć formatów właśnie z linii Tempus:
- Genesis (5 1/2 inches by 42 ring )
- Terra Novo (5 inches by 50 ring)
- Imperator (6 1/8 inches by 52 ring)
- Creo ( lancero 7 1/2 inches by 42 ring)
i Centuria (7 inches by 49 ring) oceniana przez Cigar Aficionado i Cigar Insider na 94pkt...


» Miami Cigar dodaje markę 601 do listy dystrybucyjnej.
Miami Cigar & Co. kontynuuje wdrażanie nowych marek do dystrybucji. Dzisiaj ta firma z południowej Florydy ogłosiła, że zacznie dystrybucję na rynek U.S.A. wszystkich cygar sprzedawanych przed United Tobacco Inc. (znanych też jako Espinosa y Ortega), włączając w to wysoko oceniane 601 i Cubao...

» Tatuaje Monster Series
Pete Johnson, właściciel Tatuaje Cigars ma ponad 600 "ochlapanych krwią" trumien w swoim warsztacie na Sunset Boulevard w Hollywood, Kalifornia. Dokładnie sześćset sześćdziesiąt sześć. Nie planuje on satanistycznych rytuałów, ale wypuszcza unikatową, Halloween'ową serię Monster Cigars i będzie to pierwszy rok kiedy fani Tatuaje będą mieli szansę zapalić cygaro tych potwornych rozmiarów...

» Daniel Nunez przechodzi na emeryturę.
"Po 34 latach z General Cigar, poczułem, że czas zwolnić, żebym mógł spędzać więcej czasu z rodziną, a także zająć się dążeniem do innych celów. Mimo wszystko tytoń dalej jest w mojej duszy i chętnie będę występował jako doradca firmy po moim przejściu na emeryturę".


To oświadczenie Daniela Nuneza, szefa operacyjnego General Cigar i utalentowanego master blender'a, który zdecydował przejść na emeryturę w drugim kwartale 2009 roku...



» Altadis U.S.A. zamyka fabrykę w Alabamie.
W ciągu dwóch tygodni od najbliższego piątku, Altadis U.S.A. Inc. zamknie fabrykę cygar w Selmie, Alabama, która produkuje cygara Phillies. Fabryka produkowała cygara ponad 60 lat, podając za Selma Times-Journal...


» Oliva Serie V Maduro !
Oliva Cigar Co. wprowadzają na rynek Oliva Serie V w wersji Maduro, czyli ciemniejszej wersji świetnego Serie V Liga Especial...

» Davidoff kupuje Camacho!
Camacho Cigars, z siedzibą w Danli, Honduras i Miami, Floryda zostaje dumnym członkiem Oettinger Davidoff Group z siedzibą w Bazylei, Szwajcaria. Camacho Cigars są bardzo ważnym graczem na największym rynku zbytu dla cygar - rynku amerykańskim...


» Nowy sampler od Padrón Cigars Inc.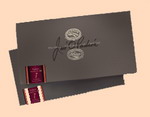 Padrón Cigars Inc. przygotowują się do wprowadzenia na rynek nowego, taniego samplera(poniżej 30$), który powinien pojawić się w sprzedaży pod koniec listopada...

Ankieta
Brak zawartości dla tego panelu